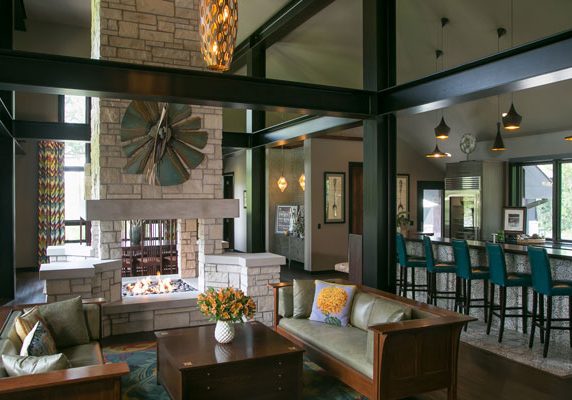 Private Residence
The property consists of five lots on a shallow cove of Powers Lake, with only one of the lots being buildable; the other lots are designated as conservation lots.  Lat Abee Leed is the Scottish term for "leave alone cove", which the client gave to the project on day one.
The remaining buildable lot was a sloped long-narrow parcel, allowing the house's integration into the site.  The house design is a combination of post-modern Scottish and ski-lodge influence.
The North elevation facing the lake consists of irregular shaped rooms in order to take advantage of differing views of the lake and the conservation lots.  The observation tower on the Northeast end gives the best views of the lake.  The approach to the home along the South side of the house beings with a timber "bridge", giving the visitor the sense of "crossing over" a stream.  The combination of pre-finished dark bronze metal siding, metal roof, stucco and battered wall stone veneer walls anchors the building into the site.
The interior of the home features a two-story Great Room with a three-story four-sided stone fireplace surrounded with an exposed Architectural steel structure.  The home has an elevator, which makes it completely accessible inside as well as access to the pier on the lake.